"Ho Hum" Special Primary Election:
Turnout was lukewarm at best, with barely 2 percent coming out to vote
Co-authored by Tracy Seelye
Unofficial results from Tuesday's special primary election showed a very ho-hum response to the contest. 
Barely 2 percent of the 2,130 registered voters in Plympton came out to cast their ballot; the total number of votes cast was only 45 for the 13-hour election day beginning at 7 a.m. and winding down at 8 p.m.   At 7:30 p.m. Plympton Town Clerk Tara Morrison said that she doubted the count would reach 50 ballots for the day.   She was right.
Halifax Town Clerk Barbara Gaynor said that enthusiasm for the election didn't fare any better in Halifax, as a mere 107 ballots were cast by the 5,145 registered voters in that town, or 2 pe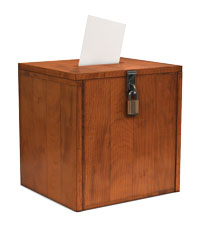 rcent. 
The unanticipated cost to Halifax for this special election, she said, was $2,554.46.  "And we do it again in November." 
The two area state representatives Rep. Michael D. Brady, (D-Brockton) and Rep. Geoff Diehl, (R-Whitman) will face off, along with unenrolled candidate Anna Grace Raduc of Halifax, on Tuesday, Nov. 3, as they vie to fill the 2nd Plymouth and Bristol District seat left vacant due to the death of State Senator Thomas P. Kennedy in June.
On the Democratic side, Brady, handily defeated businessman Joseph Lynch, also of Brockton.  Brady got 49 votes in Halifax to Lynch's 7, while Brady netted 18 votes to Lynch's 2 in Plympton.
Diehl was on the GOP ballot but faced no opposition.  He got 51 votes in Halifax, and 22 votes in Plympton.  "For me, today was just another day on the campaign trail," he said.  "My focus is November."
There were no candidates listed on the Green, Rainbow, or United Independent Party ballots.
Voters may have been looking ahead to November as tallies throughout the district saw a similar low turnout.
In Whitman, where 384 of the town's 9,631 voters cast ballots, Democrats backed Brady with 141 votes to Lynch's 29.  Hanson saw 232 votes out of about 7,000 voters turnout to give Brady a 115 to 15 win over Lynch
The margin was similar throughout the district with Brady taking 2,533 votes in Brockton, 94 in Easton, 88 in East Bridgewater, and 219 in Hanover.
Neither Brady nor Lynch was available for comment on the primary election result, but Rep. Diehl expressed his gratitude to the voters.
"The response to the campaign has been overwhelming," Diehl stated.  "When I am door-knocking, people are thanking me every day for repealing automatic gas tax hikes."
He also stressed the differences between his tenure as a representative for the 7th Plymouth District where he has served since 2010, and Brady, the 9th Plymouth representative for more than seven years.
"I am the only candidate in this race who has cut people's taxes," Diehl said." My opponent has voted to increase taxes every time.  He doubled the tax on alcohol, raised the gas tax, sales tax, utility taxes, supported increasing income taxes and voted for higher fees."
Diehl pointed to his accomplishments, including the automatic gas tax repeal and work against legislative pay raises and opposition to taxpayer contributions to balance cost overruns for the Olympics.
While Brady is strong in Brockton where he has served on the school committee and 13 years as a city councilor, Diehl's best chance is, considered by political observers, to be centered in the surrounding suburban communities.