Brady wins state senate seat, Geoff Diehl strong in suburbs as a tale of two districts emerges
By Tracy F. Seelye
and Deborah Anderson
Express staff
As many political watchers had predicted, Brockton's landslide win for state Rep. Mike Brady, D-Brockton, Tuesday was too big for state Rep. Geoff Diehl, R-Whitman, to overcome despite big wins in all but one other town in the 2nd Plymouth and Bristol District.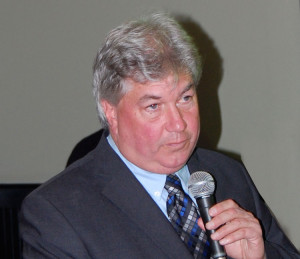 "I'm very humbled by all the support," Brady told supporters Tuesday night. "It was from all of your efforts all across [the district]."
Diehl, for his part, told supporters, "you have to try, you can't just cede this race," in his remarks at Whitman's VFW.
"We've had the best supporters I've ever seen," said Diehl, whose campaign out-spent Brady's two-to-one. "A lot of people thought this race was unwinnable from the get-go. … We looked at the numbers and felt it [was] a potentially winnable race."
But Brady held on to win the state senate seat — vacant since the death last June of state Sen. Tom Kennedy, D-Brockton — by a margin of 14,381 to 10,242 for Diehl and 643 for Halifax Independent Anna Grace Raduc.
Kennedy was much on Brady's mind as he gave his victory speech.
"He was a great friend and mentor to myself and a lot of others and he was also a man of great faith and truth," Brady said. "He would let me know if my tie wasn't straight or whether I needed a haircut."
He also thanked his two opponents in the race.
"You've got to give them a lot of credit, everybody ran a great race," Brady said, noting it was now time to "keep this community and this district moving forward" citing, in particular, veterans' legislation he is supporting.
Diehl said he views his wins in the suburbs as a "win overall," and  made a promise to supporters.
"I will not stop working hard for you everyday as your state representative," Diehl said. "You elected me — not power-brokers up on Beacon Hill — and I'm still going to stand up to special interests."
Rather than look on the result simply as a loss, Diehl called it "an opportunity to gauge the work to be done" to ensure greater balance on Beacon Hill.
Brady garnered 11,193 votes in Brockton to Diehl's 3,594. Brady also edged Diehl in the portion of Easton that falls in the district — 397 to 388 with 9 going for Raduc.
Elsewhere, it was all Diehl, but not by enough to overcome Brockton's 7,599-vote differential.
Whitman went big for its "native son" giving Diehl 1,930 votes to Brady's 727. Hanson cast 1,142 votes for Diehl and 494 for Brady. Halifax voted 592 for Diehl and 288 for Brady and Plympton gave 229 votes to Diehl and 90 to Brady. In East Bridgewater voters gave their state Rep. Diehl 1,037 to Brady's 423 and in Hanover, Diehl garnered 1,350 to Brady's 775.
Raduc received 506 votes in Brockton, 12 votes in East Bridgewater, 21 in Hanson, 13 in Plympton, 32 in Whitman and 41 in Halifax.
In Whitman, 28 percent of the town's 9,659 voters cast ballots. Hanson saw a 23 percent turnout.
"Geoff Diehl has the hometown advantage," Whitman Selectman Dan Salvucci said Tuesday afternoon. "In the district, I think that Geoff has worked so hard that it's almost like he has a right  to get it, but the fact is if he doesn't win it's not from a lack of trying.  He's done it all — he's knocked on doors in all the towns in the district, especially Brockton, and win or lose, he's done his best."
It was a concern  Diehl supporters voiced all day.
"He's been doing great everywhere, but Brockton's iffy," said Whitman resident Joe Goldsberry, holding signs for Diehl Tuesday morning, of his candidate's chances. "Hopefully there'll be a low turnout in Brockton."
Whitman Town Clerk Dawn Varley  had ventured to guess shortly after the polls opened Tuesday that Diehl's candidacy could translate into a 13 percent turnout in town.
In Hanson, where several poll workers brought knitting projects to pass the time during lulls, Town Clerk Beth Sloan said the special primary turnout in September was already been exceeded before 9 a.m. Tuesday. One poll worker competed an entire blanket during the 3-percent primary turnout in September.
On Tuesday, the projects included a baby blanket, sweaters and at least one pair of socks. Sloan was hopeful voters would be interrupting the handicrafts often, with the 23 percent turnout, she got her wish.